Anna Khuade - Founder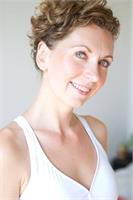 Hello, I'm Anna and I founded Affordable Yoga & Fitness. My passion is to make people happier and healthier by introducing them to fitness, yoga and healthy nutrition (sounds corny, but its true!). I am a qualified Yoga Alliance teacher RYT200 and RPYT (Prenatal Yoga) as well as hold a full diploma in Personal Training, and a Ballet Barre certification.
A bit more about me…
I am a British/Russian and have lived almost equal amounts of my life in both the countries, before moving to Paris in 2011. I have a background in corporate career, but I packed it in and quit my job to become a health and fitness professional - and couldn't be happier with this move. Aside from my work-related passions, I love photography and design. I love trying to understand contemporary art, and spotting street art. I also love being outdoors, mountains, sea, forests, – all give me great pleasure to explore, especially when I'm doing something active with a great group of friends.
Professional history
I've been into sports and fitness from a young age. Growing up in a very sporty family, I always got involved in and loved everything my parents did, and after getting a degree in Business Management in the UK and a brief stint in the corporate world I realised that my true professional calling was my lifelong passion for sports and fitness. I then quit my job and re-trained as a Personal Trainer and then went to study the art of teaching Yoga in India. After coming back from India I moved to France where I saw a need for affordable health and wellbeing, and shortly after founded Affordable Yoga, where I now work full time on this mission.
There has been tremendous support and interest in this initiative so I have lots of exciting plans of expansion into different locations and adding new exciting services. If there isn't something yet on offer that completely suits your needs in terms of time and location, please keep checking back for news!
Anna Khuade - Founder is currently not instructing any classes.