Mathilde Richardot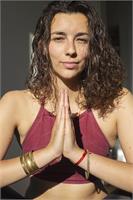 Mathilde is a multi-style Yoga Teacher trained at Aman Walia Indian School, Osho Disciple - Master of Meditation (Ek Omkar Yoga & Meditation center).
Mathilde is passionate about discovering and sharing the whole sphere of Yoga (meditation, breathing, philosophy, mantra, etc.) and the art of teaching.
Through teaching, she aims to share the well-being which the yoga community has been able to provide her personally.
Mathilde Richardot is currently not instructing any classes.