Nika Jurov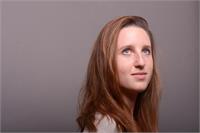 Nika started doing postural Hatha yoga in 2009 as a part of her obligatory sports course of the university program in Slovenia.
Only a few months later as she was travelling in India she incidentally discovered dynamic yoga style. At first completely terrified of what people did in Ashtanga class, she somehow found herself in 2014, again in India, doing the 200-hour yoga teacher training course - in ashtanga yoga. She holds a certificate in Ashtanga Vinyasa/Power Yoga from Universal Yoga, McLeod Ganj, India.
After teaching for a while in various fitness centers and yoga studios in Slovenia, she was back to India in 2016, this time in Mysore, and spent two months practicing with Saraswathi Jois, daughter of Ashtanga yoga founder Sri K. Patthabi Jois. She also taught in Oman for a while and is now teaching in Paris, France, while doing her second Master studies in linguistics.
Nika loves movement and having completed several shorter workshops on postural yoga, she makes sure to include all the possible alignment tips in her class. She has an even greater interest in breathing and meditation, which in connection to movement makes a yoga class that nourishes the body and the mind much longer than the time spent on the mat.
Nika Jurov is currently not instructing any classes.