Anuradha Goyel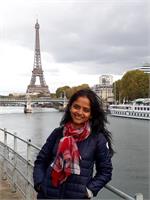 Anuradha hails from India, the birth place of Yoga.

Leaving her corporate career in India behind in 2015 she moved to Paris.
Along with new life, new
challenges came new opportunities, new beginnings. Anuradha got into Yoga and Yoga got into her. She
got connected with her inner self and felt more at peace.

In August 2017, she qualified as Yoga Alliance Teacher (RYT200) from 'International Sivananda Yoga
and Vedanta Centre', Himalaya, India. It allowed her to gain a solid grounding in the classical Yoga
tradition. Following her love for Ayurveda, Anuradha completed an intensive course in "Science of Yoga
therapy and Ayurveda" in August 2018 from Rishikesh, India. It gave her deeper insight into Asanas,
pranayama, Bandha, Mudra, Kriya, meditation and philosophy.
She follows Yoga Philosophy, practice and lifestyle as a way of living. She wants to share the gift of
Yoga with one and all. Anuradha believes that Yoga is the way to assist and guide individuals to bring more awareness and self-realization towards health and inner self and develop holistic approach towards
life.

Anuradha is passionate about supporting students attain enhanced flexibility, strength, balance, body
alignment, handling day to day life stress, improving self-confidence and assist them in their own
unique journey on the path of Yoga. Her practice involves mindfulness and utmost awareness
towards inner self and an attempt towards activation of the seven energy centres (Chakras) in the
body in order to bring about transformation and healing from within.

An ardent follower of Naturopathy and Ayurveda, Anuradha's other interests include painting,
reading, exploring new places, meeting new people.
Anuradha Goyel instructs the following: