Isha Lahori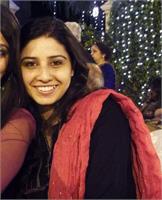 Hailing from the Himalayan region of India, I graduated in 2009 from an architecture school. I've experienced different kinds of work, tasks, and missions until I moved to Paris in 2016.
The deep desire to change my daily routine brought me to something I really enjoy doing, that I can talk about for hours and hours, that I can share and being proud of a Yoga life.
As a yoga instructor, I want to help beginner yogis feel comfortable in their practice, learn essential postures, and ensure a safe and inviting practice for everyone. I feel the need of breaking this myth of Yoga being meant only for flexible and skinny persons.
My intention is to help people find balance between their body and mind, and guide them to a healthier and better life.
Isha Lahori is currently not instructing any classes.