Natalie Pollinger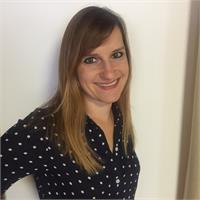 Natalie Pollinger E-RYT 500 is an experienced instructor with an advanced Vinyasa Flow Yoga Teacher certification from Sonic Yoga in NYC influenced by Shiva Rea under the direction of Lauren Hanna. Natalie holds also an E-RPYT 85 Prenatal Asana and Pranayama certification from Integral Yoga in NYC.

Natalie lived in New York City for 10 years where she taught Vinyasa and Prenatal Yoga at different yoga studios, companies and also to private clients for several years. She is now teaching yoga and meditation in Paris, but she is also leading yoga retreats and workshops worldwide and teaching at international yoga festivals.

Her style is playful and creative, integrating Prana Vinyasa Flow and rhythmic movements into her sequences. Yoga is a moving meditation.

Personally, she has practiced yoga for more than 15 years. After living in India for 6 months in 2011 and deepening her personal yoga practice and studying Ayurveda with locals in Kolkata and Rishikesh she had the urge to deepen her knowledge of this ancient lifestyle. Natalie then completed her first yoga teacher certification in 2012 and has been teaching yoga ever since.

Natalie loves all types of movement, yoga, acro-yoga, meditation, long walks, exploring and traveling
Natalie Pollinger is currently not instructing any classes.