Micheline Zamora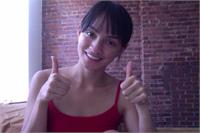 Micheline has called many places home: Manila, Texas, California, New York, and now, Paris. She also has many loves: fiction, poetry, picnics, hot choco, and is now dabbling in "making stuff" like shortcakes, cheese, and picture books for her kid. And of course, she loves yoga.

She has been practicing on and off since she was 12, doing sun salutations to her mom's Gaiam VHS tapes. She graduated from Vinyasa Yoga to Bikram, before finally falling in love with Ashtanga.

Yoga, to Micheline, is a practice in quieting the mind, being present, and listening. Ashtanga is her favored style because she believes it is especially conducive to being a moving meditation. It is always the same series of poses, and the practice changes from day to day based on the body (and mindset) of the practitioner. Her classes are fast-paced and challenging, but accessible to beginners that are ready to push themselves.

Micheline received her 200-hr teacher training from AV108 Yoga School in the Philippines and has studied Children's and Community Yoga with Rainbow Kids Yoga.

~~ Ashtanga is the original Power Vinyasa class: a very active moving meditation with many opportunities to both strengthen and energize the body. This Ashtanga Basics class introduces beginners to the primary series of this practice. Having the same sequence each time gives room for keeping the mind clear and focused, allowing students to observe how the body continues to change and evolve. Just be ready for a challenging practice that requires a humble and non-competitive outlook.
Micheline Zamora is currently not instructing any classes.